Tibetan Monks White Tara Sand Mandala
Gala Rinpoche with colored sands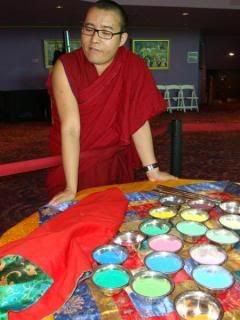 If you didn't see the White Tara Sand Mandala painted by the monks of

Drepung
Loseling Monastery

you missed a spectacular event. As part of the program called

The Mystical Arts of Tibet

, five monks spent a week painting a four-foot sand
mandala in the Grand Foyer of the Van Wezel. In all the artistic traditions of Tantric Buddhism, painting with colored sand ranks as one of the most unique and exquisite.

I had the opportunity to spend five easy afternoons with the head of the monastery, Gala Rinpoche, talking about mandalas, meditation, Buddhism, illusion and impermanence. He explained that
the monks go through three years of rigorous training to learn this art. It
Day 2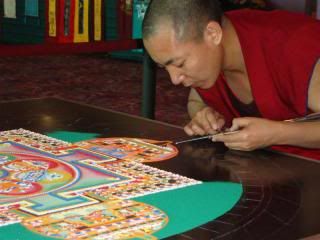 includes meditation, geometry, breath control and a final initiation.
In the shadow of a shrine to his Holiness the Dalai Lama, Gala Rinpoche explained that the monks had dedicated their meditations and intentions to White Tara who was in the center of the Mandala. Rinpoche explained how all emanations of the Goddess of Compassion (Red Tara, White Tara, etc.) emerged
from the central Green Tara.

The monks spent the week meticulously creating the sand mandala from marble "dust" which had been colored using only vegetable and fruit dyes. In more ancient times, the sand was pulverized precious and semi-precious stones with lapis lazuli used for blue, amethyst for purple, rubies for red and emeralds for green. The
Community Mandala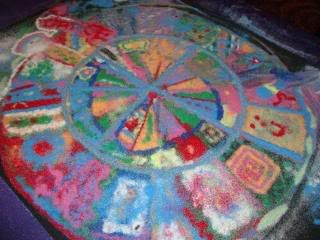 mandala is delicately created grain by grain to generate the healing energies of the Goddess of Compassion upon all sentient beings.

Visitors had the opportunity to try their hand at the art of sand painting in a community mandala. It was not as easy as it looked. Several students from Ringling School of Art began the mandala with a floral pattern in the center before others joined in.

The Sand Mandala is a representation of the aspects of illusion and impermanence.
Urn - Deconstructed Mandala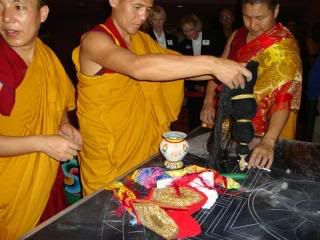 was deconstructed at the end of the week. The deconstruction signified the impermanence of all existence. The sands were swept up in a sacred ceremony and placed in a bronze urn covered with silken altar cloths. It was then poured into the bay where the waters of the Gulf would carry the healing energies throughout the world.
++++++++